The Ultimate Ski Holiday Checklist for Goal-Seekers
One of our ski instructors shares their essential tips on what to pack for a successful ski holiday. If you're a goal-seeker looking for the essentials for a safe and fun ski trip, here's everything you'll need:
The first and most important thing to remember is that you will be travelling to a mountain, so warm, waterproof, breathable, and durable garments are imperative. Here are some ski essentials you will need to bring with you in order to master this wonderful landscape. Some are obvious, some are often forgotten, but all are invaluable…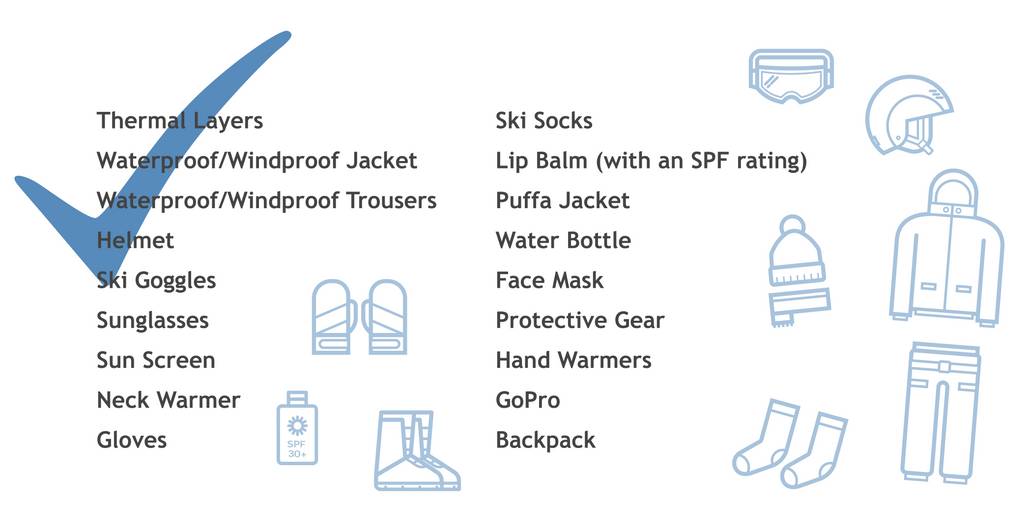 These thin tight-fitting shirts and leggings will hug your body and heat up a thin layer of air between your skin and the fabric. These will do more to keep your core warm than the thickest of ski jackets. On top of these initial thermal layers it is a great idea to have many other layers that you can remove or add to as the temperature fluctuates.
Waterproof and Windproof Jacket and Trousers
We suggest purchasing a ski or snowboard-specific waterproof and breathable jacket and trousers as they usually come equipped with other useful features, all ideal for tackling the mountain. Powder skirts can prevent snow from sneaking inside your jacket on those deep powder days. While underarm and leg vents are perfect for keeping you from overheating on those perfect blue sky days.
When skiing or snowboarding it is a really good idea to wear a helmet. Even if you are confident on the slopes there is a lot going on that can be outside your control. You can think about it like wearing a seat belt whilst driving. Good helmets are easy to find online or in most outdoor sports shops, but if you don't fancy buying one, you will be able to rent a good helmet at any Club Med resort.
Ski Goggles or Sunglasses
It is imperative to protect your eyes when out on the slopes. The reflective snow covered surfaces mean your eyes are getting bombarded by a lot more light than they are used to. A pair of goggles or sunglasses with a tinted, polarised lens will help protect your eyes. Modern ski goggles have many different types of lenses to choose from: low light lenses will enhance your vision in bad visibility, while high light lenses are great for shielding your eyes from the high intensity light. Most goggle companies will have a lens that is suitable for a range of conditions, saving you from purchasing many different lenses.
Despite the cold, the sun is more powerful when you're up high. The thin atmosphere and your proximity to its rays mean that getting burnt is far more common than you would expect. Factor 50, with regular reapplication, is recommended on particularly sunny days. It's also worth noting that the sun's rays will reflect off the snow and sunburn the underside of your nose. Leave no skin unprotected.
If it gets windy on the slopes, a good neck warmer is important to provide extra protection against the cold. "Buffs" are probably the most recognisable as you can pull them up over your head to keep your face warm too.
Waterproof gloves or mittens are a necessity when it comes to keeping warm on the slopes.
It is important to have comfortable and warm ski socks to wear in your boots. Your socks should be long so that they don't finish inside the boot, and they must fit well so that they don't bunch up inside the boot. It is also important not to wear multiple layers of socks, this will decrease your control of the ski.
Lip Balm (with an SPF rating)
The use of lip balm on the mountain is twofold. First, it's the most effective way of protecting your lips from the sun. Second, a layer of lip balm will help keep your lips safe from the dryness and cracking that comes with cold winds.
These insulating jackets come in all shapes and sizes. What you may see some instructors pull out from time to time is a lightweight, thin, down feather Puffa jacket. These can be folded and packed into a package no bigger than a mango and they're the perfect thing to pull out if the weather takes a turn or someone in your party is feeling cold.
It's too easy to forget that your body is actually doing some hard work amidst all that fun, so remember to keep hydrated.
Very useful for protecting your face from the elements. Keeps you nice and toasty in the wind and extreme cold and protects your face from the sun's rays on beautiful blue sky days.
More advanced skiers and snowboarders like to wear back protectors when they are moving at higher speeds. Snowboarders may want to use wrist guards or padded trousers to protect some of the areas that are more commonly injured by snowboarding.
These warming pads are great on the really cold days. If it's really cold, placing a 'hand warmer' nearer to you heart or core can be even more effective than having one in your gloves. Nowadays you can also buy reusable hand warmers, so you won't have to keep buying new ones.
These handy cameras are perfect for capturing your amazing winter holiday. With many different mounts available you'll be able to get footage and photos from many different angles.
Great for carrying your sun screen, camera, warm layers and any other extra equipment you may have. Just be careful with any loose straps when using a chairlift or any other type of lift.